Don't let traveling for work destroy your life.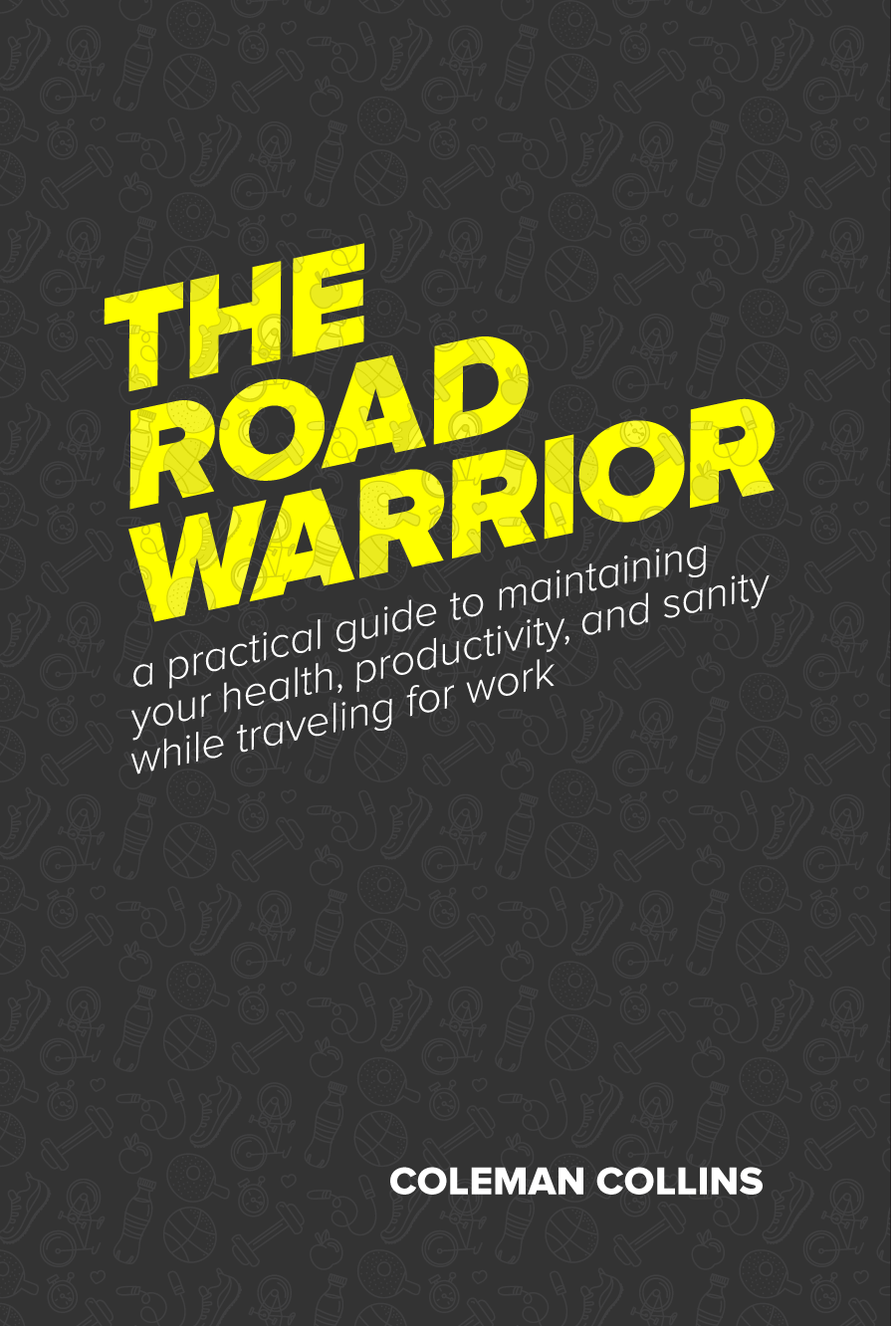 The Road Warrior is the only comprehensive, action-oriented guide to staying healthy, happy and productive on the road. Backed by years of personal experience and hundreds of hours of in-depth research, it's stuffed with over 300 pages of strategies and solutions for the most common problems of business travel.
What if you could:
Be on the road 200+ days a year without ever feeling stressed out, drained, achy, or miserable?
Know how to eat well no matter where you are, including airports, new cities, and client dinners?
Effortlessly build your own do-anywhere exercise routine, and stick to it?
Lead a happier, more productive life than your homebound colleagues?
It's possible. You can travel for work without destroying your wellness, your fitness, or your performance, but only if you have the right information and the right strategies to make it happen.
Not sure The Road Warrior is right for you?
I'll send you two chapters from the book for free, right now. You can decide for yourself, and when the book comes out, you'll be the first to know.
Traveling for work is hard work
The only experience you've ever had traveling before this was being on vacation. This is no vacation. This is hard.
You spend ten hours a week crunched into an airplane seat and another fifty hunched over a laptop. You eat every meal at a restaurant or (even worse) in an airport food court. You don't sleep enough. You barely exercise.
When you started, they spent an entire day covering how to submit receipts and expense reports, and no time on how to survive the actual trip. And for a while, maybe a long while, it was fine—you were thrilled by new places and new experiences, long hours and exciting work. You were so focused on everything else, you didn't notice what your new job was doing to you.
Now the changes are beginning to accumulate, and they're becoming harder to ignore. Your back hurts, and it never used to. A slowly-growing gut is becoming more noticeable. You've got a brain fog that you can't seem to shake. You get sick more often. You wake up feeling tired and achy. It seems harder to focus on simple tasks. You can feel your personal happiness and job performance beginning to suffer.
The human body is resilient, but it's not indestructible.
Become a road warrior
Pre-order now to receive:
The entire book in PDF, ePub, and Mobi formats at the lowest price it will ever be offered (a $20 savings!)
Pre-release versions of two chapters right now.
Additional pre-release chapters and notes from Coleman (the author) as the book goes through editing, design, illustration, and publication
Updates for life — every time a new edition is published, you get that version too, at no additional cost.
Early access and a free copy of the upgraded book bundle, including supplemental checklists, gear guides, workbooks, booklets, and other goodies (an additional $28 value).
or, give us your email to be notified the day the book is released
What's in the book
Introduction: Becoming a Road Warrior
My story, and how to get the most out of the book
Chapter 1: Start
Why—and how—to begin your journey to become a better you on the road.
Chapter 2: Mindset
Identify and overcome obstacles on your way to becoming a road warrior
Chapter 3: Eat
Survive eating every meal in restaurants and airports
Chapter 4: Move
Stay active and physically capable, even in a hotel room
Chapter 5: Work
Mitigate —and even reverse— the damage caused by a life in airplanes and at borrowed desks
Chapter 6: Sleep
Master the most important thing that everyone forgets; beat jet lag forever.
Chapter 7: Balance
Take care of yourself, even if you aren't the kind of person that's into "self-care"
Chapter 8: Automate
Make your new life automatic, anywhere, with location-independent routines.
Conclusion
The final secret to living your best life, anywhere.
What's definitely not in the book
The Road Warrior has no lists of foods that will magically burn belly fat. It endorses no unbelievably effective pills or powders, contains no six-week shreds, recommends no healing crystals or other pseudo-science. You won't find any magic cures or silver bullets. In fact, it provides few canonical paths to success for anything.
It still contains plenty of opinionated recommendations for what can and cannot help you be healthier person. I'll even explain the research behind them where appropriate. There's lots of actionable information in these pages.
But it's not the kind of information you may have come to expect when you think of "health advice," because that kind of information isn't information at all. It's sales. Everyone offers a miracle or a magic trick, because miracles sell considerably better than dedicated, diligent effort and pragmatic, evidence-based knowledge.
Even the products and guides that aren't total snake oil mostly suck, because they're made to be sold, not used—these solutions require you to entirely re-arrange your life and put in unsustainable, herculean effort to get the results that they're promising, which they have to promise so they can move units. You might be able to keep one of these up for a few weeks or even months, but you're not going to build a sustainable, healthy lifestyle like that. You're not going to create permanent change.
As a busy professional, let alone a busy professional that goes to a different city every week or every month, you can't organize your life around staying healthy. You don't have time to spend 16 hours a week running in a circle or doing a thousand tricep pull-downs, you don't have enough consistency in your life to guarantee access to exactly the same food in exactly the same portions all the time forever.
You're already living what can easily become an unsustainably time-intensive lifestyle, there's no place to put another one on top of it.
Who the book is for
This is a book for business travelers who want to become road warriors. That is, folks who don't want life on the road to ruin their mind and body, and are ready to put in a moderate effort to make that a reality.
Most specifically, this book is for those who: travel primarily by airplane on weekly short-to-medium-haul flights, are on the road 150–200 (or more) days a year, and whose travel schedule follows the consultant model of "several weeks to several months commuting back and forth to the same place."
If you drive more than you fly, maintain a truly itinerant travel schedule, regularly fly international long-haul flights, or only travel a few weeks per year, the principles are still completely applicable to your problems. This book is still for you. Some of the specific examples and tricks may not resonate, but it will still be worth the purchase price, and then some.
Get your boss to pay for this book
At many companies, this book will qualify as a reimbursable educational expense. Thinking clearly and feeling your best have direct, measurably positive impacts on your productivity, just as much—if not more—than a book or training on the latest technologies or strategies.
At many places, this kind of price tag won't even trigger a unique or special expense approval, and simply fall into a standard training, book, or health and wellness allowance. You'll know better than I do if this will work with your expense and/or training policies.
If you do need to convince a manager or other approver that this is a valuable training expense, I've made a two-page PDF explainer for you, with a simple, sound argument on the direct impact the strategies in this book can have on things that managers tend to care about, like productivity, absenteeism, and retention (there are even citations!). Feel free to use it as a cheat sheet when you have the conversation, or just print it off hand it directly to them.
If you're a manager and would like to buy your team this book, multi-copy discounts are available. Contact inquiries@theroadwarriorbook.com for more information.
Don't just survive. Thrive.
If you want to be able to survive work travel, you have to build a life around one simple, unavoidable fact: you now spend more time away from home than at home.
Get it wrong, and you're probably going to be looking for a new job sooner rather than later. But get it right, and you don't have to stop at survival. A well-built travel life will allow you to thrive on the road.
You're completely capable of regaining control over your life, reducing your stress levels, feeling better, eating better, and performing better. And you can use that extra bandwidth and energy however you want, whether that's exploring the cities you find yourself in, being more productive at work, or picking up a new hobby. You're only limited by your imagination.
You can design a life that's not only better than the one you have now, but better than the one you had when you weren't traveling. It still takes work, but with the strategies in The Road Warrior, it's less work than you might imagine.
So, what'll it be? Are you going to stay a business traveler, or are you going to become a road warrior?
If you have additional questions, reservations, concerns, or comments that this page doesn't address, feel free to drop me a line at questions@theroadwarriorbook.com and I'll do my best to answer them.